This article or section has some missing information.
You can help Therian Saga Wiki by expanding it.

You can help Therian Saga Wiki by gathering this information, regularly, from any of the following locations:

Normal servers (EN)
PTR servers (when it is active)

Therian Saga Game
Therian Saga Forums
Therian Saga Game Guide

Therian Saga - PTR Game
Therian Saga - PTR Forums
Therian Saga - PTR Game Guide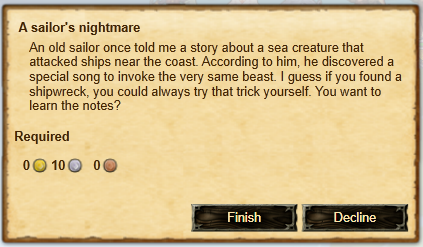 Start: Praen's Farm, Soliden Praen
An old sailor once told me a story about a sea creature that attacked ships near the coast. According to him, he discovered a special song to invoke the very same beast. I guess if you found a shipwreck, you could always try that trick yourself. You want to learn the notes?
Community content is available under
CC-BY-SA
unless otherwise noted.