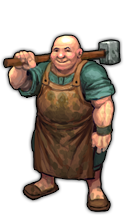 Ale is a temporary quest companion who accompanies the player through Rusilac Plateau for a first companion. He is found at the entrance to the dungeon and will give advice while exploring. He will leave the party shortly after defeating the Rusilac grass snake at the end of the dungeon.
As an NPC, he is titled as a traveler, enthusiast, explorer, mycologist and adventurer.
He will join you again at Eufelburg , Nostria for quest Gift for a princess. Just use him as a shield.
Community content is available under
CC-BY-SA
unless otherwise noted.