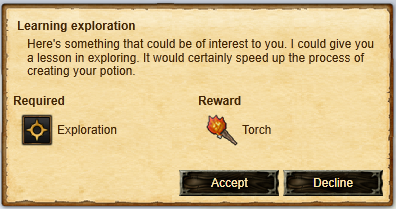 Learning exploration
is part of the tutorial
quest
chain. It teaches the player about learning new trade skills.
Here's something that could be of interest to you. I could give you a lesson in exploring. It would certainly speed up the process of creating your potion.
Exploration (gain this skill by studying it at the Rangers' camp)
Perfect. Now that you know the basics of exploration, I can show you how to get this famous mushroom.
Torch
Also unlocks the ability to buy training in exploration up to level 5. As the tutorial will suggest, it is advisable to do this as it is cheaper and faster than the same option in Craneharbor and you get a sidequest for a compass.
Community content is available under
CC-BY-SA
unless otherwise noted.